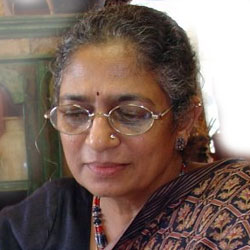 ​Anu​ ​Naik​
Born​ ​in​ ​1943,​ ​Anu​ ​Naik​ ​completed​ ​a​ ​diploma​ in​ ​Fine​ Arts​ from​ Sir​ J.J.​ School​ of ​ ​Arts,​ Mumbai ​ in​ ​ 1964.​​ She​ is​ considered​ to​ be​ one of​ the​ ​finest painters​ of​ traditional​ Indian Paintings.​ ​Her​ ​medium​ ​for​ ​her​ ​works​ ​is​ ​oil​ ​on​ ​canvas.
The ​ artist​ has​​ always​​ ​admired the​ human​ ​form​ ​and​ has​ ​​a​ ​special​ knack​ ​for​ ​painting​​ ​the rustic ​rural​ life​ of​ ​India.​ ​She​ ​finds ​it​ ​extremely interesting to​ capture​ ​ moods​ and​ movements​ of ​ her​ subjects​ and​ she​ goes​ far​​ beyond​ what​ ​is​ usually​ ​evident. Her​ use​ of ​muted​ ​​colors along ​with​ her​​ use​ of ​typical​​ ​Indian​ ​traditional​ ​colors​ ​in​ ​her​ ​palettes ​adds ​to​ ​the​ beauty​​ ​of​ ​her paintings, ​which​clearly​ ​ reflect​ Indian​ traditions​ and ​culture. Her​ figurative​ ​compositions​ ​are​ ​a paean ​to​ contemplative​ and​ serene​ prose.​
She​ ​has​ ​had​ ​exhibitions​ ​in​ ​New​ ​Delhi,​ ​Mumbai,​ ​Bangalore,​ ​Kolkata,​ ​Breman​ ​(Germany), London, ​ ​Spain,​ ​Bhutan,​ ​Norway​ ​and​ ​Sweden.